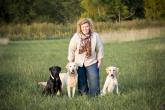 Jordan graduated from Knox College with a BA in biology.  She has three dogs, Ty, Cotter, and Maddis.  While at Knox, she spent time researching human/animal relationships as well as social cognition in dogs.  She is a member at the Decatur Obedience Training Club and she trains her dogs for both obedience trials and hunt tests.  In her spare time, Jordan enjoys pet photography and training dogs.  She can't wait to meet your dogs

Bill has been surrounded by dogs his entire life.  He may be the biggest dog lover you will ever meet!  He has trained dogs for over 30 years and has had champion dogs who competed in field trials.  He is an avid waterfowl hunter and loves to take his dogs along for the hunt!  He has been a farmer around Assumption for over 20 years.  Bill currently shares his life with four canine friends, Pepper, Joey, Opie, and Clancy.  He looks forward to sharing his time with your dogs, as well!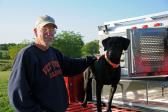 1790 N 1000 East Road

Assumption, IL  62510

~

   prairiepawsinn@hotmail.com  

217-226-4002


We all feel the same about out dogs; therefore, we know what you expect: a caring, comfortable environment where your dog can play and relax just like they would at home.